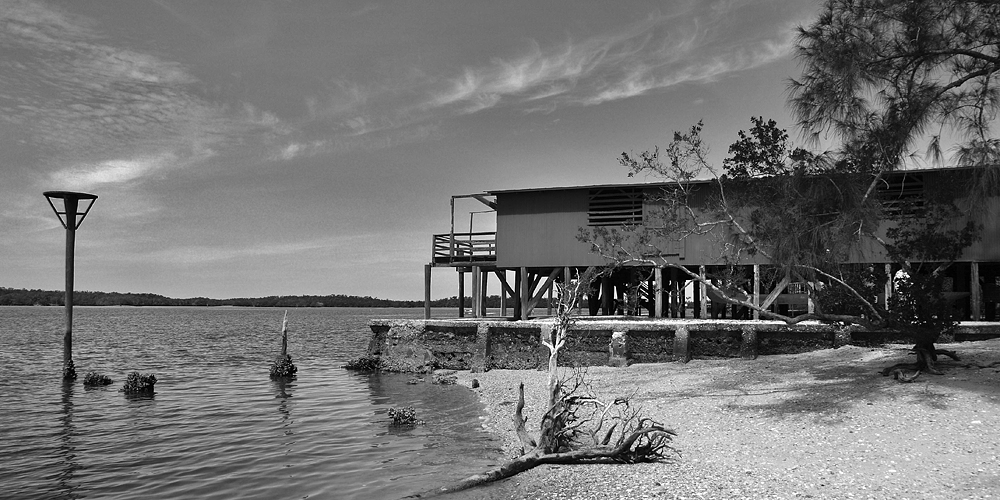 A century before Sam Walton built his first Walmart, many small towns and rural communities relied on something called the "General Store"—an evolution of the earlier "Trading Post". These served multiple purposes: You could buy fresh vegetables or fruit when available, canned food, maybe some locally-jarred pickled goods, hardware, tools, cooking supplies, and sometimes even simple toys around Christmas-time. The stores often did double duty as the local post office, and some might even sell moonshine out the back door. The General Store was also a gathering place, with requisite shaded front porch and rocking chairs where the day's news and gossip could be dispensed.
In my Visiting Small-Town Florida research travels I've come across a few that still remain—some have been revived/restored, some have become museums, and then some have just existed enduringly.
Here are three notable examples, with brief excerpts from Visiting Small-Town Florida, 4th Edition:
Wood & Swink Store and Post Office, Evinston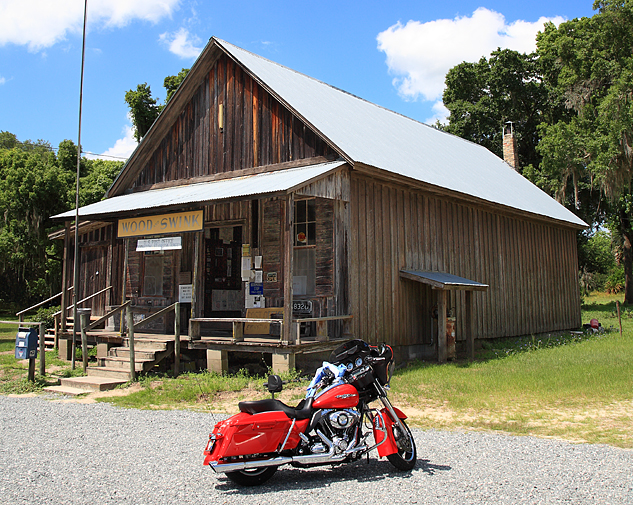 Just cross Orange Lake from Cross Creek (Marjorie Kinnan Rawlings' home) is the tiny community of Evinston (the "E" is pronounced as a short "I", "Ivinston"), home to the historic Wood & Swink Store and Post Office. Micanopy merchant S. H. Benjamin built the store in 1882 as a warehouse to store freight offloaded from the railroad. Two years later, the local postmaster purchased it and used it intermittently as a store and post office. In 1913, it became the permanent post office and today appears on the National Register of Historic Places.
Fred Wood's book, Evinston Home: God's Country, was my source for some interesting local history: In 1905, H. D. Wood and his brother-in-law, R. C. Evins, acquired the store following the hasty exit of the previous owner, John Hester. Apparently, while standing in the front door of his store, Hester shot and killed Watt Barron and wounded his father, J. F. Barron. One version of the story claims that the shooting resulted from an argument over who had the best-looking field of watermelons. Regardless of the cause, Hester was out and the Wood family was in. (In-law Paul Swink was a partner for just a couple years in the 1930s, and his name was left on the sign.)
The store remains in the Wood family today, owned by Fred (Jr.) and his wife Wilma Sue Wood (who was the postmaster until she retired in 2010). The store is a veritable time capsule, and likely Florida's oldest operating post office. Just inside the door stands a partition wall with a post office service window in the middle, surrounded by old-style post office boxes. Some of them date back to 1882. An ancient cash register sits atop the counter next to the PO boxes. Tables and counter tops are filled with jars of various home-pickled vegetables, honey, and preserves. Farm implements hang on one wall. One glass case holds old tins of tobacco. Boxes of fresh vegetables line the floor next to a vintage Coca-Cola floor cooler filled with ice-cold sodas. Tea, spices, soaps, a few books, and a variety of sundries sit on the shelves behind the counter alongside old historic photos, a few paintings, and some pictures of Elvis Presley. Is this a general store, or a museum? The answer is yes, to both questions. A big, old, wood-burning stove sits in the center of the store, surrounded by rocking chairs. If only that stove could speak.
Richloam General Store, Richloam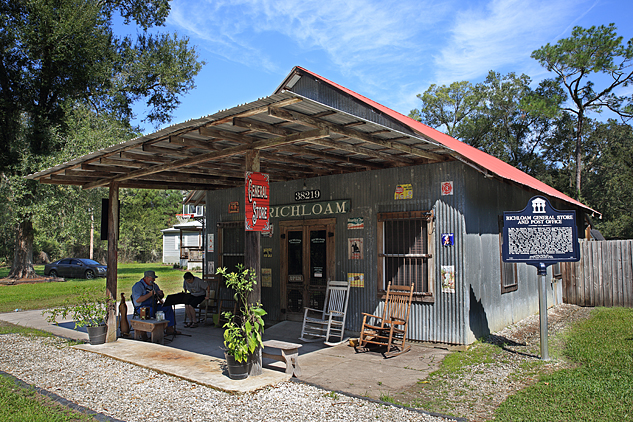 The Green Swamp, roughly halfway between Orlando and the Gulf Coast, inhabits 560,000 acres of primordial swamp wetlands and flatlands. It is the head-water source for four major Central Florida rivers: the Peace, Withlacoochee, Ocklawaha, and Hillsborough rivers. Endangered Florida panthers and black bear have been sited here. Some even claim to have spotted the occasional skunk ape.
In 1921 the Atlantic Coast Railroad decided to relocate their Riverland, Florida depot to the tiny community of Richloam, in the northwest corner of the Green Swamp. Subsequently postmaster Sidney Brinson decided to build a post office and general store there in 1922. In 1928 after being robbed, the store was burned to the ground, but undeterred Brinson rebuilt and reopened just a month later. But then in 1936 the Postal Service canceled their official postal facility status and Brinson opted to close the store, and instead rent it out as a residence. Over time ownership passed down to various members of the Brinson family. It had sat vacant for decades when Eric Burkes, Brinson's grandnephew, began renovating the building, and then reopened the store, in 2016. This is the only remaining building from the original community of Richloam, and the store was added to the National Register of Historic Places in 2017.
Most days you will find Eric or his mother Daisy behind the counter. The original PO boxes still sit against one wall. The Richloam General Store shelves are stocked with a variety of smoked meats, along with their own brand of jams, jellies, pancake mix, barbecue sauce, local honey, pickled vegetables, salsas, and relishes. I am partial to their chow chow—a very Southern relish made from cabbage, onions, bell peppers, and jalapenos. You can also purchase ice-cold sodas, candy from countertop jars, and even some cast iron cookware, and some old fashion toys.
Smallwood Store, Chokoloskee
Head south out of Everglades City on Highway 29, and you will dead-end at Chokoloskee Island, on the edge of the Ten Thousand Islands. Archaeologists tell us that coastal mound dwellers inhabited Chokoloskee and the surrounding islands more than 2000 years ago and possibly as far back as 10,000 years. These inhabitants left relics remarkably similar to those left by Central American Mayans, which has led to speculation that they may have communicated with and traded with the Mayans. More recently, Chokoloskee was a refuge for the Seminole Indians forced out of central Florida during the Seminole Wars. Chief Billy Bowlegs lived here in the mid-1800s.
Ted Smallwood settled and began farming in Chokoloskee in 1896, and in 1906 he turned his home into a trading post that grew into a full-time store and post office. Smallwood traded with the Seminoles, fishermen, fur traders, and other early settlers on the island. By 1917, the store had outgrown his house, so he built a larger facility down on the water's edge. In 1924, a violent storm blew four feet of water into the store and actually shifted its foundation. The following year, he raised the building up on wooden pilings, just in time to weather the severe 1926 hurricane.
In 1974, the Smallwood Store was placed on the National Register of Historic Places. It was still an active store up until 1982. Lynn Smallwood, Ted's granddaughter, owns it now. In 1990, she began restoring the tin-sided, tin-roofed building as a museum.
From the front door, you can see straight through the length of the store to the back door and the porch, which looks out over the water. The interior of the store looks much the same as it did for the better part of the twentieth century. Wall shelves hold staple goods and supplies that were typical of the store's inventory. A life-size likeness of Ted Smallwood sits in his favorite rocking chair. With his bushy mustache, tall hat, and glasses, he could be Teddy Roosevelt's twin. The store's original furnishings are still here. There's a long counter that runs the length of one wall with old books and photographs from Chokoloskee's bygone era on display. Decades of elbows leaning on the countertop have worn its edge smooth and rounded. One room serves as a memorial to one of this area's most intriguing characters—Totch Brown, who lived near here for three-quarters of a century. He made a living as a fisherman and gator trapper and even admitted to having been an occasional marijuana smuggler in the early 1970s. The store has been restored, but (except for Ted) it is not a re-creation. This is the real thing.
Bruce Hunt
Visiting Small-Town Florida, 4th Edition available at your favorite local book store, or order online at: