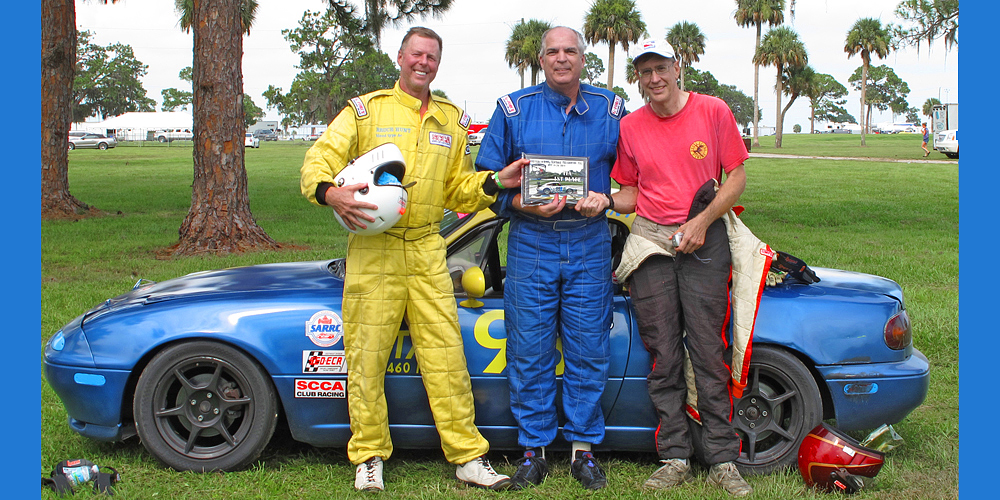 For three decades Bruce Hunt and Doug Davidson raced in SCCA endurance races under the banner of Cool Parts Racing. Pictured above: Bruce Hunt, Doug Davidson and crew chief Gary Katuin.
Excerpt from Visiting Small-Town Florida, 4th Edition Sebring chapter:
The name "Sebring" is legendary in the auto racing world. Even if you are not a racing fan, it is likely that you're familiar with the 12 Hours of Sebring, North America's oldest sports car endurance race. In the 1970s I attended the race (an event that many back then dubbed "Florida's Woodstock") as a spectator half a dozen times. It would have a pivotal influence on my life. In 1987 I acquired my SCCA (Sports Car Club of America) license and would go on to race for 30 years. My racing partner Doug Davidson and I participated mostly in endurance races. These could last anywhere from 90 minutes to 24 hours long, and required multiple pit stops, refueling, and driver changes. In our three decades of racing we brought home sixteen first-place trophies. Thirteen of those were from races at Sebring, what we considered our "home" track.
Following the end of World War II quite a few military air bases became inactive, and sport car racing enthusiasts figured out that these were practically ready-made race tracks. That was the case in 1949 with Hendricks Field at Sebring, when aeronautical engineer, entrepreneur, and racing enthusiast Alec Ulmann got the idea of using some of the runways as straights and connecting some of the twisting access roads in between to make a racetrack. The first race was a 6-hour endurance race on New Year's Eve, 1950. The first 12-hour race took place in March, 1952. Originally the track was exceptionally long—5.2 miles. In 1983 it was reconfigured and shortened to 3.7 miles. The front and back straightaways are still the original airport runway paving, and famously bumpy and jarring to drive. I can attest to that. Exiting turn 17, leading onto the front straight, is a teeth-rattler!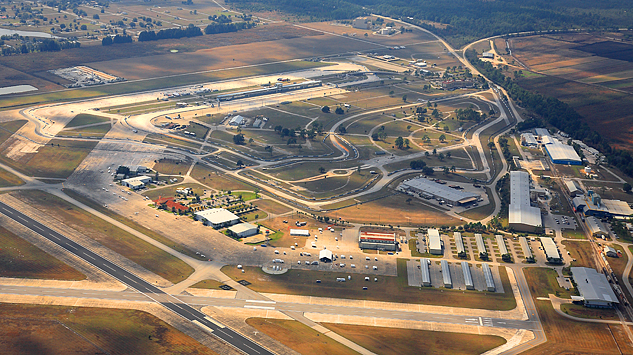 The town of Sebring embraced racing from the start. Racing schools, race car shops, and other ancillary racing businesses have made Sebring their home, and there is some sort of race, school, or race car testing going on at the track every week of the year and it keeps the town busy. Downtown Sebring runs along the east side of Lake Jackson. The center of downtown is a circular park with roads radiating from it, appropriately enough like spokes in a wheel. There are some notable eateries here. Sebring Soda & Ice Cream Works, in the historic 1922 J. B. Brown Building on "the circle", is a terrific ice cream shop that reminds me of an old-fashion soda fountain, and I'm most intrigued by their selection of vintage glass-bottle sodas. One block up the road Dee's Place is a classic diner, renowned for their big hearty breakfasts—omelets and waffles, and for their baked goods—muffins and cinnamon rolls, a great spot to "fuel up" first thing in the morning. Dimitri's is a Greek and pizza restaurant, behind the old Kenilworth Hotel (now closed), and their Back Alley Bar and Grill next door is popular with racers on their way back from the track.
Bruce Hunt
Visiting Small-Town Florida, 4th Edition available at your favorite local book store, or order online at: