My original mission for this road trip was a New Year's Eve 24-Hour Endurance race at Homestead-Miami Speedway. I would be one of three drivers in No Mo Money Racing's # 158 Miata. But I also realized that that would take me almost three-quarters of the way down to my favorite donuts on the planet—Glazed Donuts in Key West. Hence "417 Miles (from my driveway in Tampa to the front door of Glazed Donuts, Key West) For a Donut". Of course that 417 miles didn't include the 1400-plus miles we drove in the race.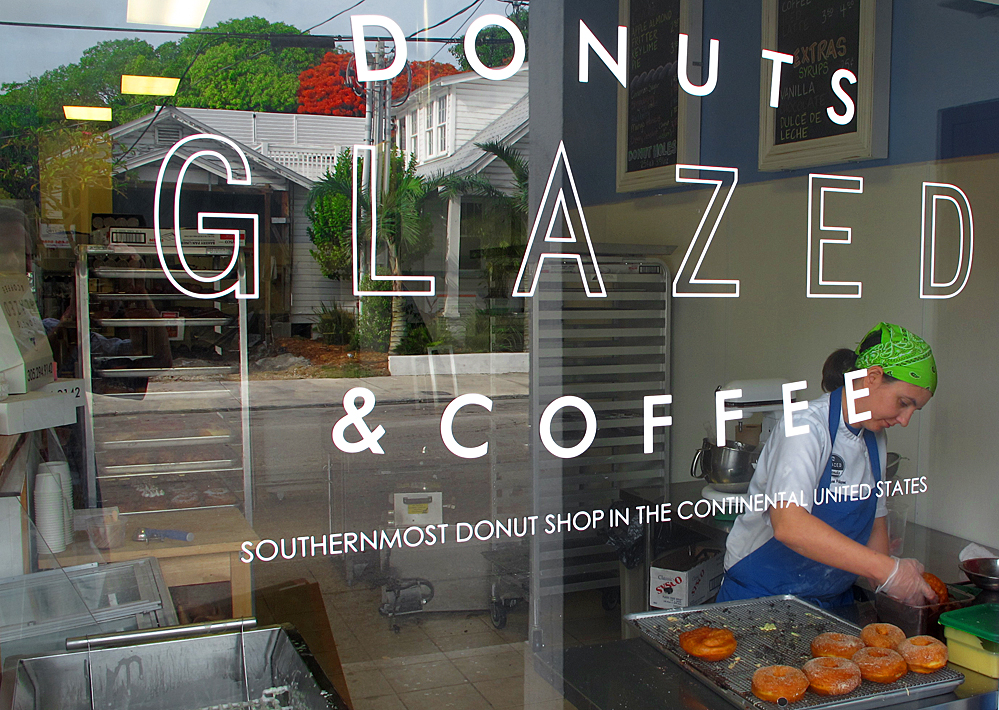 First stop—Coral Castle: In Homestead with ten hours to kill before the start of the race, I decided to visit one of Florida's oddest tourist attractions. Edward Leedskalnin was a Latvian immigrant who ended up in South Florida in 1918. Five years prior, the love of Leedskalnin's life: Agnes Scuffs (sometimes spelled "Skuvsts"), had jilted him the day before their wedding. Distraught, Ed split for Canada where he worked in a lumber yard for a while, then tried California, and then Texas, before landing in Florida City, where he bought a small plot of land. Without any help, he began quarrying nearby coral rock, and carving and assembling the blocks into a variety of structures, purportedly a monument to Agnes. Leedskalnin came from a family of masons and knew how to work with stone, but neighbors marveled that the five-foot-tall, hundred-pound loner was able to cut and move blocks (some weighing many tons) all by himself. He often worked at night and this lent an air of secrecy to his endeavors, which helped spread the rumor that Leedskalnin had knowledge of some heretofore unknown anti-gravity technology. He did indeed have some home-spun theories on magnetism and electricity, and self-published some pamphlets on the subject. But when asked directly how he did it, his reply was always simply that he understood well the laws of leverage, weight, and balance, and knew how to put them to work. His Rock Gate Park would come to include giant stone sculptures, plus massive stone platforms and doors that were balanced such that they could be rotated with the mere push of a hand. Here's the really crazy thing—In 1936 he decided to dismantle the whole thing and move it all ten miles down the road, where he reassembled it on a new ten-acre plot in Homestead. This time he had some help: a friend with a truck. Leedskalnin died in 1951. Subsequent owners would change the name to Coral Castle and eventually open it to the public. In 1984 Rock Gate Park/Coral Castle was added to the National Register of Historic Places.
Watch the highlights of the trip in 4 1/2 minutes. Video by Bruce Hunt. (click "HD " for best quality) Music: "Goofus" by Smokey Hormel
ChumpCar New Year's Eve 24-Hour Endurance Race: I've done 14-hour enduros before but this would be my first 24-hour (something that's been on my bucket list for a long time). 24-hour races can be grueling, and there are usually four or five drivers on a team. We did it with just three drivers, and dealt with rain overnight, soup-thick fog in the morning, and sleep deprivation into the next night. (And I had a wisdom-tooth cap rattle loose!) But Clark Wagner, Nigel Greensall, and I finished the 24 hours and brought home the No Mo Money Racing #158 Miata commendably in 6th place. Thank you to the No Mo Money Racing Team: Paul Kullman, Angie, Rachel, Sierra, and Mike!
New Year's Day morning I hopped on the Overseas Highway and high-tailed it south. Along the way I stopped at Bahia Honda Key State Park—one of the most scenic spots in the Keys. Between 1905 and 1912 Henry Flagler built his "Over the Sea Railway" down to Key West, but the Labor Day 1935 hurricane ended rail service forever. US Highway 1 was built in the 1930's, mostly overtop of the old rail bridges, which you can clearly see at Bahia Honda. Bahia Honda Key became a state park in 1961. This section of bridge was replaced by a new bypass, just west, in 1972. Sections at both ends of the old bridge were subsequently removed to prevent pedestrian access as a safety precaution. Now it gives visitors a spectacular elevated view. Just across the bridge, I reached Big Pine Key, whose best-known (and most-endangered) inhabitant is the petite key deer. Key deer are the smallest race of North American deer and are indigenous to the Lower Keys; nearly the entire population is found on Big Pine Key and adjacent No Name Key—where I dropped in at the No Name Pub. The No Name Pub was originally a Cuban trading post and general store, built in 1936. It was also a smuggler's hideout and a brothel. Since the mid-1970s, it's been a bar and restaurant, the oldest on the island.
Thirty more miles down US 1 I finally arrived at donut-Shangri-la. Three years ago Culinary Institute of America graduates Jonathan and Megan Pidgeon opened Glazed Donuts on Eaton Street in Key West. I am a donut aficionado. I eat them everywhere I go. I have eaten beignets at Café Du Monde in New Orleans. I have eaten donuts at fine old-world bakeries in Italy, Germany, Switzerland, even Paris, France. I have yet to find any as scrumptious as the giant fluffy-on-the-inside, crunchy-on-the-outside, dripping-with-sugary-goodness-on-top donuts at Glazed Donuts in Key West. Their apple fritter is my favorite, with the good old glazed a close second.
Bruce Hunt