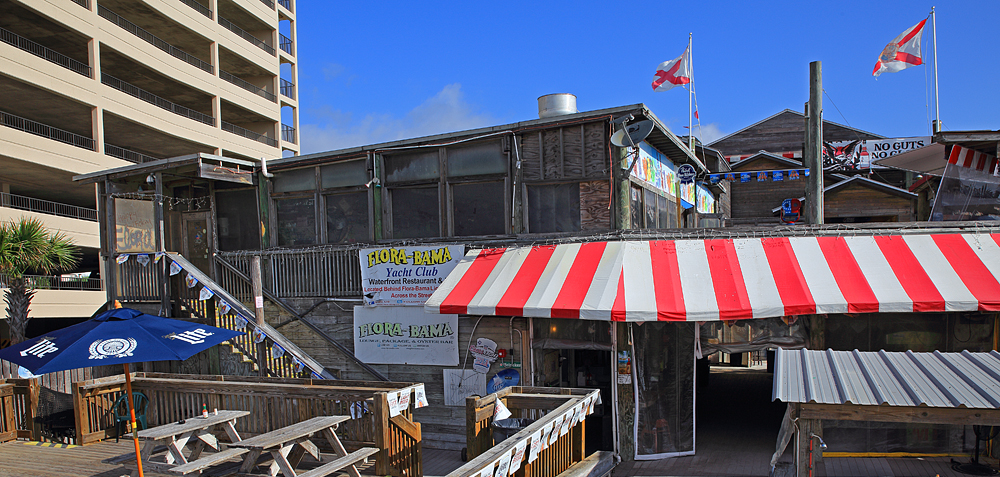 The long-awaited Visiting Small-Town Florida, 4th Edition manuscript is now complete and in the hands of editors at the book's publisher: Pineapple Press. Watch for it later this year on bookstore shelves everywhere. To give my readers a hint of what is to come I've decided to post an occasional pre-publication draft/excerpt. Here is the first!
Perdido Key is a barrier island in the far northwest corner of Florida, that stretches about 25 miles, from Johnson Beach National Seashore (in Florida) to Orange Beach (in Alabama). I first heard about the Flora-Bama Lounge and about Perdido Key in the late 1970's, while I was still a student at Auburn University. Although ostensibly majoring in Business/Marketing I'll confess I devoted much of my time to skydiving. I was president of the university's club (the oldest collegiate skydiving club in the country), and head instructor. This was an every-weekend activity and fellow skydivers formed my circle of college friends. Occasionally we would do exhibition jumps into events—football games, lake parties, and sometimes a clandestine sunset jump onto campus. A gang of my L. A. (that's "Lower Alabama" not California) skydiving buddies told me about jumping onto the beach for a big annual party, something they called "The Mullet Toss", at the Flora-Bama Lounge, on Perdido Key. The Flora-Bama was a ramshackle dive beach bar—locally famous back then. It's still a ramshackle dive beach bar but it's internationally famous now.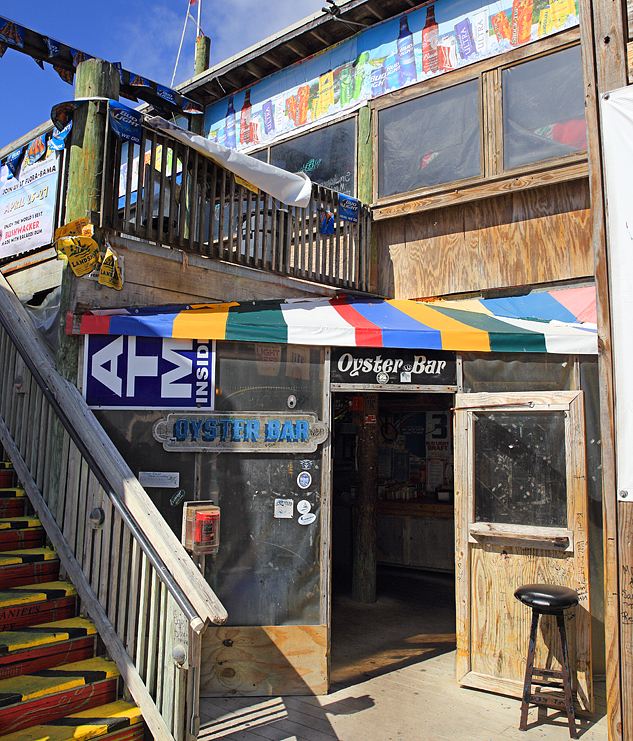 Perdido Key stretches along the Gulf Coast, across the Florida/Alabama state border, southwest of Pensacola. Stilt houses overlook beach sand dunes and the emerald green water of the Gulf of Mexico. Although not commercially overbuilt—it is mostly residential; Perdido has long been a popular summer vacation spot for families from Alabama, Mississippi, and Florida.
Back in 1964 Ted and Ellen Tampary, along with their two sons Tony and Connie, had planned to debut the Flora-Bama Lounge in time for the start of summer. But the just-completed building caught fire and burned down before they could open. Undeterred, they rebuilt and opened in October that year. It was (and still is) the quintessential beach roadhouse. What made the Flora-Bama unique was that it straddled the Florida-Alabama state line. Perdido Key was a near-desolate barrier island back then. A bridge (from the Alabama side) had just been built in 1962.
In 1978 the Tamparys sold to Joe Gilchrist and Pat McClellan, who knew a good thing when they saw it and changed nothing about the décor, but thought some live entertainment might lure more customers. They also came up with something that ultimately put the Flora-Bama on the national map: an annual (on the last weekend in April) contest and beach party, The Interstate Mullet Toss. It's just what it sounds like—who can throw a mullet the farthest, from one state to the next. The first time I visited the Flora-Bama (back in the mid-1990s) it was still a one-story building. There was a state line painted down the middle of the bar's floor. I ordered my dozen oysters-on-the-half-shell and a beer in one state, and consumed them in the other. In 2004 Florida experienced its every-four-decades rash of hurricanes. We got four in a six-week period. Number three, "Ivan" was one of those that hung out in the Atlantic and Caribbean for a couple weeks before driving up into the Gulf of Mexico as a category 5. It had weakened to a category 3 by the time it made landfall, but it was still a monster—with a fifty-mile-wide eye, and it landed right on the Florida-Alabama border. Some of the Flora-Bama withstood the onslaught but a massive storm surge gutted it beyond repair. Ivan stands as one of the most devastating hurricanes ever to strike the Alabama/Western Florida coast, so everyone assumed that this was the end of the Flora-Bama. But, just like forty years prior, eventually it re-opened.
In 2011 Gilchrist and McClellan added a third partner, John McKinnis. In 2012 the Flora-Bama underwent a major renovation—now three stories tall. They even salvaged much of the original bar and installed it on the third floor. To make the (now) multiple bars function more efficiently, they built a special "liquor room" with an automated system that pumps booze from hundreds of bottles, on demand, directly to the bars.
Today the once lonely roadhouse is one of the most popular stops on this coast and one of the best places in Florida to just hang out. They regularly book name musicians like Kenny Chesney and Jimmy Buffet. In addition, the Flora-Bama serves up some outstanding fresh-out-of-the-Gulf seafood: oysters—raw, Cajun-spicy, or "McClellan" (with bacon, onions, and Gouda cheese); and shrimp—peel-and-eat or coconut-fried.
Footnote: On September 16, just a few months away from my Visiting Small-Town Florida, 4th Edition manuscript deadline, category 2 Hurricane Sally made landfall near Gulf Shores, Alabama, just west of the Flora-Bama. This was not something new for them, and they had boarded up and sand-bagged as needed. Although there was first-floor flooding, they cleaned up and repaired and reopened just days later. Ironically, Hurricane Sally hit on the 16th anniversary of Hurricane Ivan's arrival.
Bruce Hunt